Turnkey Venue ● Modern Amenities ● Incredible Value ● Conveniently Located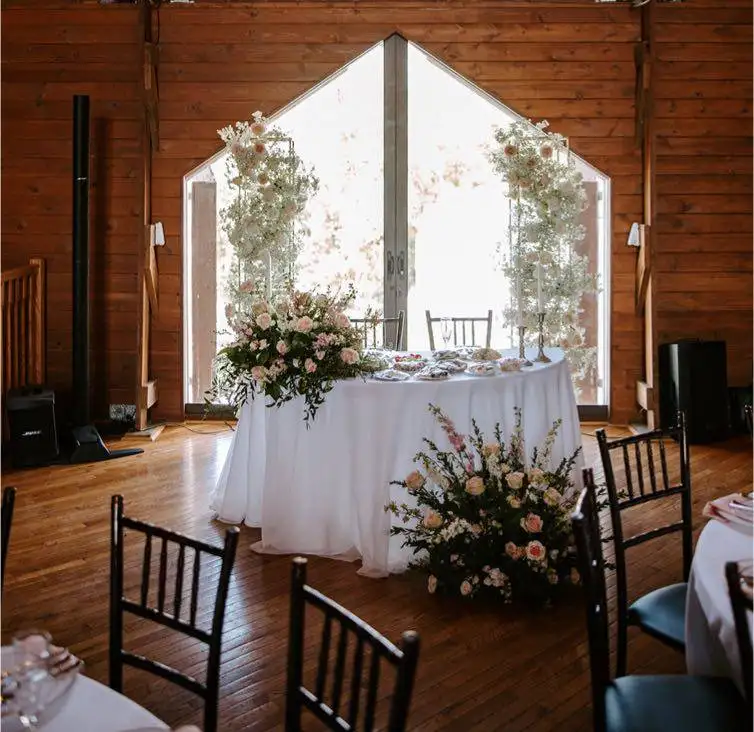 Green Acres History
---
Previously the Goodrich-Ramus barn, Green Acres, Enchanting Event Center in a Historic Barn™, is the oldest standing barn in Eden Prairie and an important part of Minnesota history. Green Acres became the first and only event center in the city of Eden Prairie on March 1, 2013.
In 2009, Hennepin County developed construction plans to widen Pioneer Trail and considered demolishing the barn, but the City of Eden Prairie and the Historical Society stepped in to save it. An article in the Star Tribune about its demise brought Steven Schussler, well-known as the creator of the Rainforest Cafe® chain of restaurants, to invest in and restore the barn.
Event Center Location
---
Green Acres is located next to Staring Lake Park with its lush trees, trails, and wildlife making it a wonderful and picturesque backdrop for beautiful pictures. You can have your dream outdoor wedding ceremony underneath the canopy of trees. The specially built wood-burning brick fireplace is lit at no extra charge for your event inviting your guests to the rustic chairs and benches to enjoy the crackling fire. Old fashioned pavers, classic John Deere tractors, a horse-drawn carriage, and a custom-built hayride with cow benches add whimsical fun. Roast marshmallows over the Cowboy Cauldron's open fire pit for delicious s'mores treats. In the evening, the barn glows with exterior theatrical lighting in a variety of color options that you can choose from.
Heritage Preservation Award
---
Steven Schussler received the 2016 Heritage Preservation Award for the loving and meticulous restoration of this classic 1942 barn. Original materials were used or exposed when and where available to keep the barn's rich history and structural beauty of its Gothic Arch shaped roof of ancient timbers.
There are three beautiful entertainment spaces for you to create your most memorable event amongst crystal and candlelight chandeliers, a collection of antique jukeboxes, an extravagant Italian water fountain, music, and theatrical lighting. Cozy seating areas around warmly lit fireplaces with weathered horse saddles, kerosene lanterns, aged furniture, artwork and so much more, make your guests feel comfortable, evoking fond memories of the past.